Round Brilliant Cut Diamond Cluster Stackable Ring
Description

Ring Details

Gemstone Details
This delicate ring features an elegant cluster of natural round brilliant cut diamonds meticulously arranged to create a dazzling focal point. Designed for versatility, it's perfect for stacking with other rings or as a standalone statement piece.
Band width: 2.00 mm
Setting type: Prong
Type: Natural diamond
Number: 7
Shape/Cut: Round brilliant
Carat weight: 0.05
This piece is made to order. Please allow 7 to 10 days for production.
Experience the joy of receiving your order in exquisite packaging.
Handcrafted with care and passion in Santa Monica, California, USA.
---
---
Looking to create a custom piece of jewelry?
Let us craft a unique and stunning piece that reflects your individuality. Book an appointment to discuss your preferences, explore design options, and receive personalized guidance throughout the process. Learn more
Round Brilliant Cut Diamond Cluster Stackable Ring
Sourcing & Materials

Gemstones

Our dedication lies in offering you ethically sourced high-quality gemstones. Each gem undergoes meticulous handpicking by Kate Price herself, who carefully selects from the most trustworthy local dealers. This rigorous process guarantees that every piece embodies our commitment to unmatched quality.

Metals

We believe that each jewelry piece should mirror the individuality of its wearer. To achieve this, we blend precious metals with the finest alloys and meticulously cast each creation with the highest level of care and precision. Our approach ensures that every piece exudes uniqueness resulting in truly exceptional jewelry.

Values

Our mission extends beyond crafting exquisite jewelry; we strive to create a positive impact in the world. Our unwavering dedication to equality and justice resonates through every aspect of our business, from the responsible sourcing of materials to the utmost care and respect we extend to our valued clients.
Care Instructions

Store Your Jewelry Separately

To preserve the beauty and condition of your fine jewelry, it's crucial to store it separately from other pieces to prevent any potential scratching or damage. Ensure that each individual piece has its own designated compartment or pouch, and refrain from mixing it with other items within your jewelry box.

Avoid Exposure to Chemicals

To safeguard the quality and appearance of your jewelry, it's essential to be cautious with chemicals like perfume, hairspray, and lotions. Apply these products prior to wearing your jewelry and refrain from exposing your precious pieces to them, as they can cause damage to the metal and gemstones.

Clean Your Jewelry Regularly

Over time, dirt and oils can accumulate on your cherished jewelry, leading to a loss of its luster and visual appeal. To maintain its brilliance, make it a habit to clean your jewelry regularly using a soft-bristled brush and a mild cleaning solution.

Be Gentle with Delicate Pieces

Fine jewelry tends to be delicate, so it requires gentle handling. Steer clear of pulling or tugging on chains or intricate settings, and remember to remove your jewelry before engaging in any activities that may potentially cause harm or damage.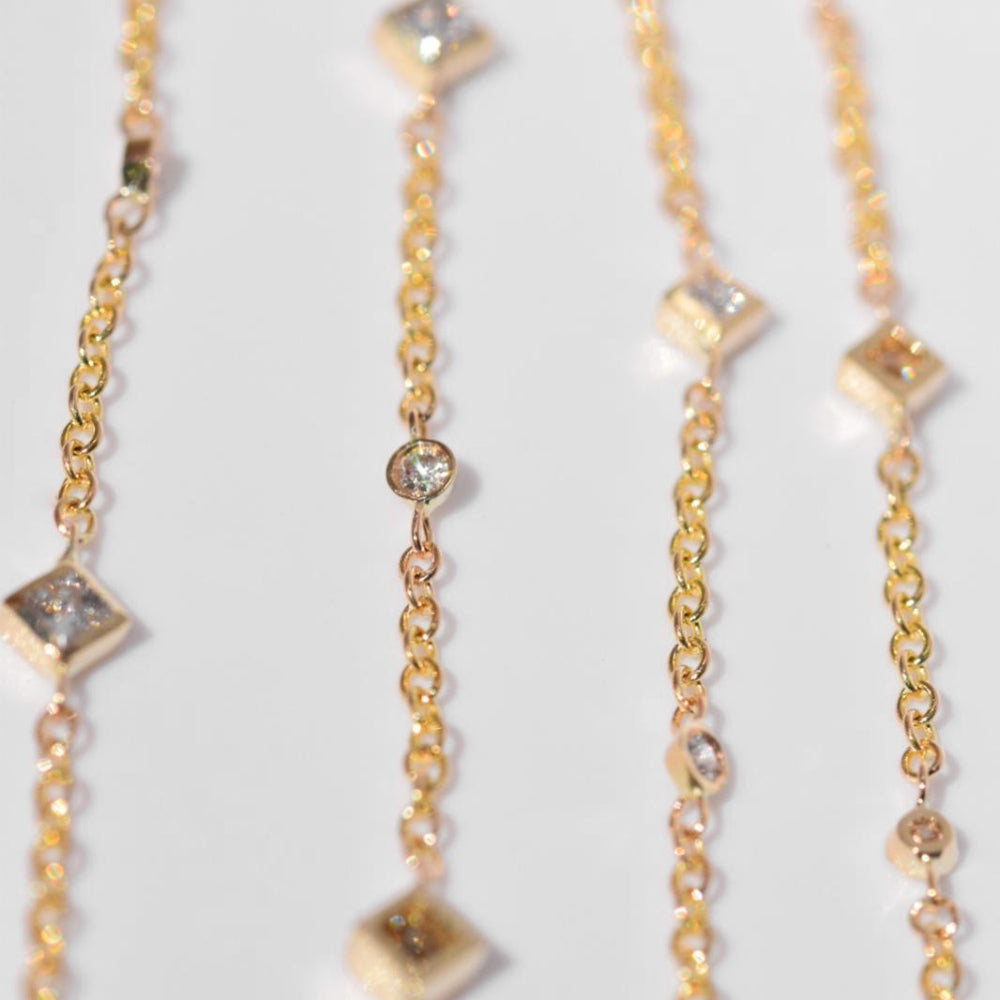 The Remix
Heirloom Jewelry Redesign
Bring us your mismatched jewelry — inherited, found, or no longer in style — and together, we'll plan a bespoke redesign that transforms fragmented pieces of the past into a single, covetable Remix necklace, bracelet, or ring; you'll never want to take off.
The Signature
Custom Jewelry Design
Step into a world where your imagination meets craftsmanship, and let us bring your dream jewelry to life. We'll collaborate with you to create a one-of-a-kind signature piece that reflects your style, captures the essence of your story, and will forever be an extension of your individuality.